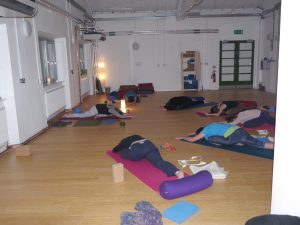 In Yin Yoga we work very close to the mat, holding poses for between 3-5 minutes so to work deep into the connective tissue (Fascia) of the body. Yin tends not to work at a muscular level although sometimes it is beneficial to introduce a little bit of muscle and movement (yang) into a Yin practice. Yin can best be understood as an embodied meditation. We have time to become very intimate with our breath and our mind and through this beautiful practice experience ever-deepening tranquility and release. Sometimes we practice Restorative Yoga using lots of cushions, bolsters, blankets to find full comfort in the posture. In these classes, we give ourselves permission to fully rest and let go, focussing particularly on calming the nervous system.
This is about more than working your body – everything we practice physically in yoga is intimately informed  by an ancient, rich and fascinating  philosophy going back thousands of years  and yet more relevant today than ever. I weave aspects of this philosophy into the teaching of breathing techniques, physical postures, relaxation and meditation. Through my classes, my aim is for you to feel wonderfully stretched, spacious and strengthened, your breathing smooth and regular and with a deep sense of calm and alignment with what matters in life.
I first encountered yoga when I was a stressed 15 year old and my grandmother showed me a sequence of asanas (physical postures) to help focus and calm my mind. I continued to practise on an off, and in the last 10 years began to take it more seriously, establishing a regular practice. In 2014 I took this further by completing a British Wheel Foundation Course in preparation for teacher training on the British Wheel Teaching Diploma. I am now qualified as a Yoga Teacher with the British Wheel of Yoga (accounting for 500 hours of training). Teaching students of all ages and levels of experience has transformed my own relationship to yoga and confirmed this is what I most love doing!
rebecca@theriverroom.org.uk  Tel: 07907374278