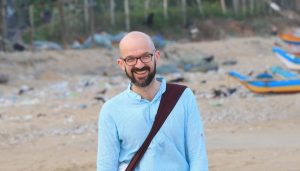 My name is Oliver Thorne. I am a teacher of Aikido, Yoga and Tantra, Meditation and Thai Massage and a Ph.D. in Religious Studies from Lancaster University. I am currently a Gestalt therapist in training at Manchester Gestalt Centre.
I began Aikido and Yoga together in 2003. Since then I have traveled the world living in both modern and traditional dojo and ashram for a total of about four years. I teach Aikido, Yoga and Tantra as arts of self-transformation in the North West area (Lancaster, Blackpool, Preston and in and around the Forest of Bowland.)
I first learnt Traditional Thai Massage in Bangkok, Thailand and later studied with some renowned master teachers in Chiang Mai, Thailand. I had several months of training and practical experience during this time and taught some of the basic courses in one school I attended for some months. I then went on to run a small practice in Switzerland for a year, before returning to the U.K.
The last several years I have been focused on academic studies and writing. Recently I finished a PhD in Religious studies at Lancaster university. My thesis and my interests are in comparative philosophy and transformational practices.
Yoga and Tantra
I teach a form of Yoga and Tantra which is modern and systematic in its presentation, while having roots that can be traced back several hundred years. It is a systematic approach which includes the whole spectrum of yogic teachings. We work together gradually from the most simple postures such as sitting, standing, lying down, through the more subtle practices of body-breath co-ordination, breath development, sound vibrations, relaxation and concentration.
To be best of my ability, I teach from my own experience, while following the teachings of the Gitananda Yoga tradition as passed on to me by my teachers Meenakshi Devi Bhavanani (Ammaji) and Yogacharya Dr. Ananda Balayogi Bhavanani, and several of their senior instructors, specifically Yogacharya Latha and Yogacharya Cathy Davis. I undertook a six month live-in training course with them in 2016, after nearly a decade of correspondence and guidance.
Over several years, Yoga and Tantra becomes a way of life and the teachings I offer will vary and naturally become more subtle depending on each individual's needs. In the beginning it is about developing a healthy body and a healthy breath as well as a positive outlook on life. Anyone can benefit from the most simple yogic teachings and I hope to be able to share some of them with you.
Classes are generally accessible to anyone with an interest. The Yoga I offer is not limited to gymnastics as many modern forms are. I do not separate teachings for rejuvenation, teachings for breathing, teachings for strength and well-being, or more dynamic teachings. Every class tends to offer a selection of teachings from the whole spectrum of yoga making the sessions integrative and holistic. The aim being a taste of what is truly possible in any authentic Yoga practice.
The practices are in logical sequences which aim to establish a new understanding of the body, breath and mind allowing for new levels of holistic integration. The systematic form of yoga will appeal to those both with and without experience in modern forms of yoga as they offer an opportunity for you to begin or to deepen an existing practice by going step-by-step through different series of practical teachings.
A typical class will include:
Jatti – body loosening and tension releasing exercises
Kriya – body and breath co-ordinated movements
Asana – simple sequences of body postures held for short periods of time
Pranayama – simple breath control exercises for health and balance
Nada – the yoga of sound, for healing, pranayama and for meditation
Mantra – an extension of Nada above, to include working with sacred syllables such as the Pranava Om
Shava asana – a practice all in itself, from where we shall relax in a number of different ways