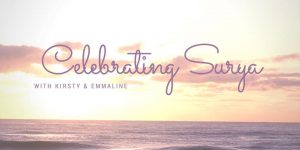 Join us on Sunday 11th June from 10am to 3pm for an exploration into the center of our universe; the SUN! And all things summer with a focus on our yoga practice, Ayurvedic wisdom and how to keep our cool during the summer season.
Summer is the Pitta season in Ayurveda (composed of the Fire and Water elements), which means it's time to get outside, play, relax and enjoy the outdoors, recharging our internal batteries with solar energy.
THE YOGA will be a mix of Vinyasa, emphasizing playful sequences to reduce Pitta's intense personality, cooling and restorative forward bends to help you to take shelter from the heat, heart opening back bends to recharge and seated postures to improve overall circulation and blood flow… And Yin – with extra heat and longer days, it is easy to dry up, get angry, irritated or exhausted, especially if work and play are not in balance. So we'll complement what's going on outside in nature with relaxed, slow, cooling movements, maintaining a playful attitude. Slow down and move from your intuition, listen from within to grow and mature during this season of abundance.
To book please contact emmalinet@hotmail.co.uk £40 for the full workshop with a delicious summer lunch box & cold pressed juice from plant-based concept included.