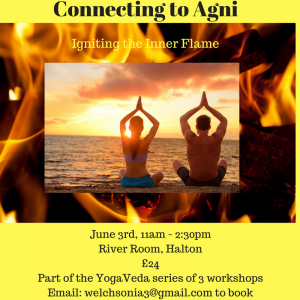 There's a few places left on the Connecting to Agni workshop:)
http://www.soniawelch.co.uk/workshops/
Agni is a Sanskrit word meaning fire and is used to describe the power of ingestion, absorption and digestion within the body. The word derives from the root 'ngni', which can be easily linked to other words referring to fire such as ignite.
Ayurveda offers the knowledge that we ingest, absorb and digest much more than just the food we eat.
In this workshop we will explore all the things that our agni is responsible for and promote both its increase and its control using yoga postures, pranayama, meditation, Ayurvedic diet, lifestyle choices and Ayurvedic self massage points. In this experiential workshop, you can learn how to access the 'power of the Fire Element' when needed to stop it burning out of control or stagnating the digestive power. Time will be taken to explore the relevance of the idea of Agni and its connection to our practice and our lives throughout the workshop.
This workshop is suitable for those with some Yoga experience.
Light refreshments are available during a short break.