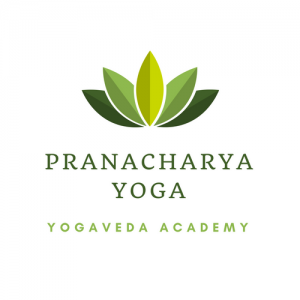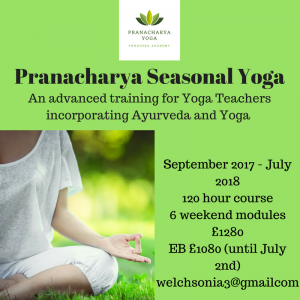 An Advanced Seasonal training course for Yoga Teachers
This course incorporates the sister sciences, Ayurveda and Yoga. The content is designed to express their commonality on the Yoga mat. This course will re-energise your teaching and provide a deeper experience of traditional Yoga and Ayurvedic practices that can be shared season by season as an 'on the mat' practice.
Benefits of Pranacharya Seasonal Teacher Training Course:
Acquire your own creative style and interests encompassing the philosophy of Pranacharya Yoga
Start learning the foundational concepts of Ayurveda unveiling Yoga's foundational principles in a new light.
Learn about the subject of Ayurvedic Seasonal Regimes from the ancient Ayurvedic texts and how it can guide your classes, workshops and retreat ideas
Start the first step on a journey that leads to a better understanding of your students changing needs
This one year course has been designed to bring health to the teacher as well as the student! Learn and practice Ayurvedic daily health routines and then learn how to teach those practices to your students.
Course Content:
Master the elements with a dynamic and remedial flow for each season.
Learn the 'language of Prana' and receive training in the five foundational breaths that follow the energetics of each season
Understand the concept of Ayurvedic body type and 'doshic' imbalance and how it relates to your students in class
Learn ayurvedic daily and seasonal routines
Understand the importance of the primary 20 qualities in a seasonal yoga delivery and how they provide the best commentary within the classroom
Get guidance on which yoga and ayurveda practices could be set as homework for your students in between classes
Understand the concept of repairing the digestive system to bring health
Know which pranayama has a remedial effect within each season
Become an expert of how the flows of 'the five winds' can command balance and imbalance within each season.
Discover the link between chakra, movements of the spine, colour, sound, music, mudra, breathwork, mantra and asana to create seasonal flows the remedy the effects of each season.
Teach how to use the senses in class to enhance beneficial effects in class.
Receive an introductory understanding of the Ayurvedic concepts such as Ojas, Agni, Bhutagni, Basti, Shakti and Raktadhatu and their placement in a seasonal practice.
Learn seasonal themes for use in classes, workshops and retreats to enliven the seasonal experience
WATCH THIS SHORT VIDEO TO FIND OUT MORE
This is a certificated course for Yoga teachers with a (minimum) foundation in Yoga The full course is 120 hours, delivered in six weekend modules presented at the start of each of the six traditional Ayurvedic seasons.
£1280
Early Bird £1080 (booked and paid by July 2nd)
Directed by Sonia Welch BA Ayurvedic Studies; Ayurvedic Diet and Lifestyle Practitioner and Therapist; IYN Yoga Elder
Assistant Teacher – Emmaline Turley IYN Yoga Elder, Yoga Alliance Senior Yoga Teacher, BWY trained
Course Administrator – Rebecca Ellis, BWY trained, owner and director of River Room, Halton, Lancashire
2017 Course Dates
Module One – September 9th – 10th  2017
Module Two – November 11th  – 12th 2017
Module Three –  January 13th  – 14th  2018
Module Four – March 17th – 18th 2018
Module Five – May 12th  – 13th 2018
Module Six – June 30th  – July 1st 2018
Times for weekend modules:
Saturdays:  9am – 3pm
Sundays:   9am – 3pm
Please email rebecca@theriverroom.org.uk, putting 'pranacharya seasonal yoga course' in the subject box, from 24th April onwards for course syllabus, course terms and conditions and booking instructions.